Pink Diamonds on the Rise – After 40 years of operations, the Pink Argyle Diamond Mine is closing at the end of 2020.
"This year's tender is incredibly special, being our second last Argyle Pink Diamond tender in 40 years and it's headlined by some historic diamonds," says Argyle Pink Diamonds marketing manager Marie Chiam
There is a big buzz of excitement around the Argyle Eternity. It is the largest fancy, vivid, round, brilliant diamond that they have ever offered at tender. Definitely, making it unfathomably rare.
The tender is launching this month. The is name of the tender is, 'One Lifetime, One Encounter'. The showstopper is the 2.24-carat Fancy Vivid Purplish Pink Argyle Eternity. It is one of 62 diamonds in the 2020 tender.
Only an exclusive group of diamond connoisseurs and luxury jewellery houses are on the invite list to tender the historic pink diamond 57.23-carat collection.
Typically, the tender includes are six hero stones. The headline stones are chosen through a careful selection process. Plus, this year is very special. An additionally twelve sets of 'Petite Suites' stones included this year.
"They've been meticulously crafted over a five-year period, so thousands of hours by our master graders, and are quite simply unrepeatable," Ms Chiam said.
Rising Pink Value
Top bids on rare Argyle Pink Diamonds are known for fetching prices in the millions of dollars per carat. The unique appearance of an Argyle Pink Diamond is graded foremost on colour. Next is clarity and cut. Its value determined by the intensity.
Are you considering a pink diamond as an investment? Well, you will like to know the value of Argyle Pink Diamonds sold at the tender have appreciated 500 per cent, outperforming all major equity markets.
The supply of these extremely rare diamonds is more scarce. The scarcity makes them more valuable.
Argyle is a leader. Producing more than 90 per cent of the world's pink diamonds. And with the impending closure the appetite for pink diamonds has grown. Collectors are coveting, collecting and acquiring the rare pink diamonds.
World (Pink) Tour
This year has been unique, as we know. The Pink Diamond Tender collection is setting out on a world tour. The Diamond tour will have limited showing in Perth, Singapore and Anetwerp.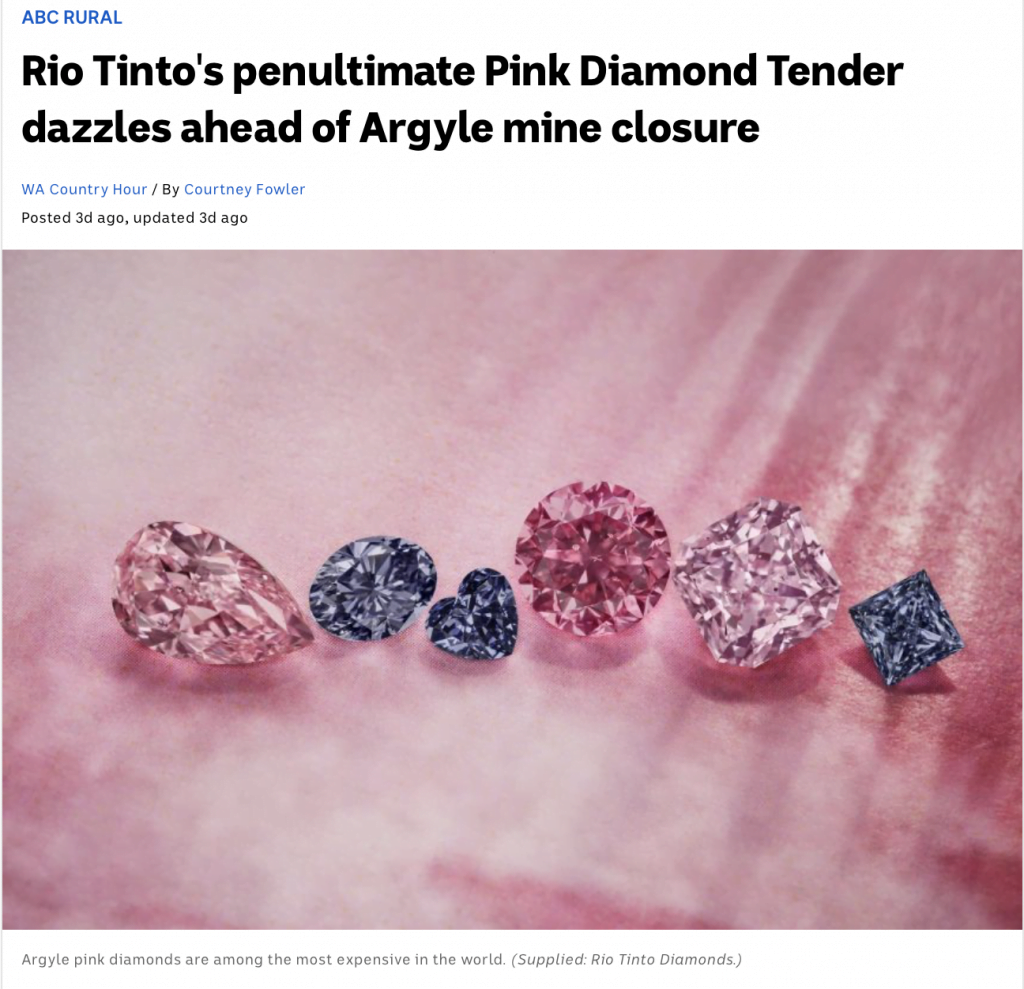 Are you on the Guest List?
No? Well, we are not alone…
Incredibly, only 19 Australians are on the exclusive list! These collectors are the select few invited to place secret bids on the stones. All bids must be in by the December deadline.
"It would be the end of an era for long-term collectors when the tender called its last bids.", said Helen. Helen Thorne is Kimberley Fine Diamonds' manager.
We could not agree more with Helen. Furthermore, knowing the mine is closing, we are seeing the increasing interests of pink diamonds. We find it exciting to be a part of history. Even with the mine closure Kimberley Fine Diamonds has a positive outlook. It is the end of an era. However, it will be exciting to see what is yet to come.
Well, you are in invited!
Sue and team invite you to Avenue J Jewellery in-store and online. First, we invite you to explore our beautiful selection on pink diamonds. Next, we encourage your to adventure into our other collections.
Know, we are proud to offer our Pink Argyle Diamonds Collection. Each piece comes with a certificate. The certificate lists unique information about the piece and the diamonds.
"Owning a Pink Argyle Diamond (from Avenue J Jewellery) is owning a future Australian heirloom. As these rose riches age, they are and will become sought after treasures." says Sue, the owner of Avenue J Jewellery.
Pretty in Pink is taking on a whole new meaning and we are happy to offer this unique pink product instore or online.
Shop our Pink Argyle Diamond Collection – Click Here